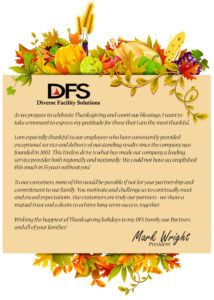 As we prepare to celebrate Thanksgiving and count our blessings, I want to take a moment to express my gratitude for those that I am the most thankful.
I am especially thankful to our employees who have consistently provided exceptional service and delivery of outstanding results since the company was founded in 2002. This tireless drive is what has made our company a leading service provider both regionally and nationally.   We could not have accomplished this much in 15 years without you!
To our customers, none of this would be possible if not for your partnership and commitment to our family.  You motivate and challenge us to continually meet and exceed expectations. Our customers are truly our partners – we share a mutual trust and a desire to achieve long-term success, together.
Wishing the happiest of Thanksgiving holidays to my DFS Family, our Partners and all of your families!
Mark Wright, DFS President