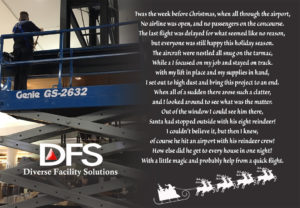 'Twas the week before Christmas, when all through the airport,
No airline was open, and no passengers on the concourse.
The last flight was delayed for what seemed like no reason,
but everyone was still happy this holiday season.
The aircraft were nestled all snug on the tarmac,
while I focused on my job and stayed on track.
With my lift in place and my supplies in hand,
I set out to high dust and bring this project to an end.
When all of a sudden there arose such a clatter,
and I looked around to see what was the matter.
Out of the window I could see him there,
Santa had stopped outside with his eight reindeer!
I couldn't believe it, but then I knew,
of course he hit an airport with is reindeer crew!
How else did he get to every house on one night?
With a little magic and probably help from a quick flight.