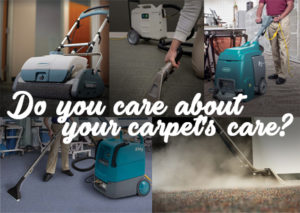 How much do you know about the carpet care program in your facility?  Do you know what your custodial contractor has implemented in terms of frequency, or the type of maintenance and machines that are used on the carpets you've invested in?  That's right.  Type of maintenance.  I'd bet a few of you thought hmm…there's vacuuming and steam cleaning right? Wrong.  And in fact, the options have really changed the way many custodial teams develop their carpet maintenance programs.  First let's be clear about steam cleaning.  It's just that, it uses steam.  Often times people use steam cleaning and hot water extraction interchangeably, but they are two different methods.  If you're not sure what's happening on your carpets, start asking questions.  Find out what's being done and how often.  Why?  Because each method has its pros and cons, but the latest technology, encapsulation, has quickly becoming a key element to carpet care programs, sometimes taking over the deep cleaning process entirely.  You're intrigued right?  Only Facility Managers answered yes to that question but that's what we're here for.  That's why we share our experience and recommendations.  Because we're here for you, Facility Managers.  YOU are our customers.  And your customers, are our customers too.  So keep reading…
Believe it or not, encapsulation programs have been around for about 25 years.  It's a low moisture carpet cleaning program.  It'll never fully replace the extraction method, but it can eliminate the need to shove water and detergent into your carpet multiple times a year.  And we love that!  Encapsulation uses special chemicals that encapsulate and crystalize soils on the carpet.  The machine is used to agitate the carpet and chemical carrying it deep into the fibers and scrubbing in multiple directions while lifting the pile at the same time. When the product dries, removal of the stain is as simple as running a vacuum over it.  Really.  The final step is a vacuum.
The units are less cumbersome and easy to move than typical extractors or van truck units.  The moisture levels are low.  The process takes less time to perform than extraction.  And carpets are dry well before they'd be dry with extraction, often is just 25 minutes.  Yes.  You read the right.  25 minutes.  Which makes it great for facilities that run 24/7 or those that operate late into the night, and open very early in the morning, leaving only a short window for deep cleaning projects.   It's a great program and one that we truly believe in.  Depending on the type and use of your facility, it could almost completely replace extraction.  However, be warned, some facilities with intense traffic levels in geographical areas that are susceptible to extreme weather like snow, rain & flooding, will always need an extractor onsite and in use.  So make sure you ask your custodial team what they're doing on your carpets.  Or call us! We can build a carpet program tailored to your facility that meets your needs and works to extend the life of your carpets…because they are one of your biggest investments!