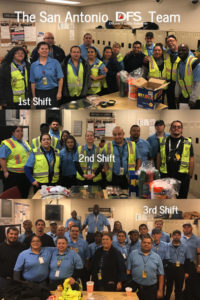 According to Airports Council International (ACI) World, the San Antonio International Airport (SAT) ranked second among 48 different airports in the North American category. The Airport Service Quality (ASQ) awards are announced each quarter to showcase airports that exemplify a superior customer experience and rank high in customer service surveys. SAT has consistently placed in the top three for the past three years.
In the latest rankings for the third quarter, SAT scored 4.44 in Overall Satisfaction based upon a 1-5 rating system. The customer panel based their scores on speed of baggage delivery, courtesy and efficiency of check-in, ease of flight connections, customs inspection and cleanliness of airport and courtesy of staff.
"We've built a culture here at SAT where exceeding –not just meeting- our customer's expectations is the standard", said Karen W. Ellis, Chief Customer Experience Office, San Antonio Airport System.  SAT has received an ASQ Award for outstanding customer service for the last three years. The airport served nearly 10 million passengers this year and offers flights to 53 non-stop destinations.  Other airports in the same category as SAT include – Austin, Columbus, Jacksonville, Indianapolis, St. Louis, Kentucky, Cleveland, San Jose and Edmonton
The DFS team at SAT truly exemplifies the DFS culture and sets out to do their best every day.  ASQ scores clearly outline the team's impact on the airport's overall ranking and we're so excited to be a part of the customers' services at SAT.  A special thank you to all of the DFS team members that work hard every day ensuring that the airport is clean and comfortable for everyone that enters those facilities.  Thank you for all that you do for DFS and SAT!
It was a pleasure to celebrate with all three shifts last week.  It's important that we recognize employees for their excellent work so an ASQ Employee Appreciation Party was in order.
For more information on SAT's scores this quarter see the chart below:
SAT Overall Satisfaction Airport Rating: 2nd