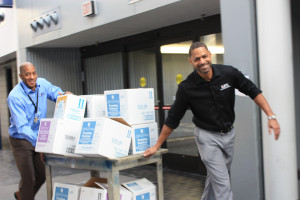 Nope.  This is just DFS President & CEO, Mark Wright (right) and VP of Finance, Charles Cole (left) onsite for a new account startup earlier this month and they didn't show up alone.
"This is how we've always done it.  We bring as many people in as we need and I've been a part of startups forever" says Mark.  "It's a chance to meet our newest team members and interact with them in their work environment.  Our team members are our greatest asset and it's my goal to be sure they are properly trained and have access to the right tools to get the job done."
So, Mark showed up on day one of a new contract and brought most of the Alsip office with him.  "Operations ran the show but everyone pitched in," said Executive VP Barb Distasio.   The team assembled machines, cleaned and setup the custodial office & break room, stocked inventory, performed QC checks and held extensive onsite training sessions.

Ask anyone at DFS, Mark won't ever say no when someone asks for support.  "I want our teams to be successful and anything I can do to support that, I'm happy to do.  Today, I scrubbed floors and stocked inventory with our Operations team.  Tomorrow, I'm at a vendor interview with our Sales team.  I have a great group of people working with me, and I'm always available to help out."