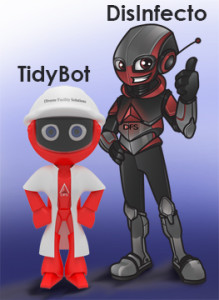 DFS has emerged as a leader in the janitorial services industry.  With over 800 employees across the country, a presence coast-to-coast in 7 states across the US, and three corporate offices in Illinois, California and Texas, DFS has grown up to be a frontrunner in providing janitorial and facility services in this country.  As the company grows we realize it is time to also grow and develop our marketing strategies.  Conventional methods of marketing are no longer as viable as was in the past, but an online presence can prove to be an effective method of reaching target markets and customers.
We now need to find our voice.  Who do we want to be online?  What do we want to represent?
We know that we want to focus our messages on educating the public about all things janitorial – how to keep your facility clean, what to focus on in terms of a cleaning contract, industry standards and best practices.  We also want this voice to project information that we believe in as a company.  How to interact with your customers.  How to interact with your employees.  Human resources initiatives and safety topics. We believe that in order to secure that voice we need to also present the public with an individual that lives, breathes, moves, talks and has a personality that people can relate to and want to listen to.  We also believe that this same concept can be a great tool within our organization.  To create a personality that speaks to our employees and effectively communicates all things DFS, and most specifically safety information, would be a valuable addition to the method in which we interact with new and existing employees.
With that idea, DFS recently revealed two characters to all of our employees across the country.  We launched a Character Naming Contest and asked all employees to get creative and submit names for each of the characters, to win cash prizes.  We received over 50 submissions but only two names could immortalize our two new team members.  After the names were compiled and votes were tallied our characters now begin to form personalities with the addition of their new names.
And the winners are: DFS/San Antonio International Airport Custodian Lauren Carter for submitting the winning name DisInfecto for our online/social media character.  And DFS/Midway International Airport Supervisor Maria Mora for submitting the winning name Tidy Bot for our internal company character.
Lauren and Maria will be presented with their prizes this month and their legacy within the DFS company has been established.  We are thankful to all of the participants and appreciate our employees' enthusiasm to be a part of the company's growth and personality.  Congratulations to Lauren and Maria!